Have you adopted from PUP? Then join our PUP Reunion event!
We're planning a PUP Reunion on October 26th at the Kirkland Petco. This is a chance for you to show off your adopted PUP dog and buy a 2014 PUP Stars Calendar. Our volunteers love to see the dogs they fostered and the dogs usually go bonkers too! We'll have more details in our September and October PUPdate.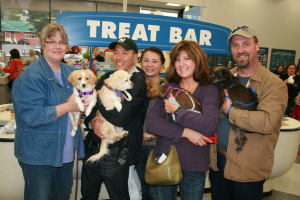 Some happy faces from our 2012 PUP Reunion
Read more of our August PUPdate here.