PUP 
is happy to present some of our Shining Stars in our 2015 
PUP 
Calendar! Thanks to our adopters, our 2015 Calendar features 68 wonderful pictures along with 15 heart-warming stories.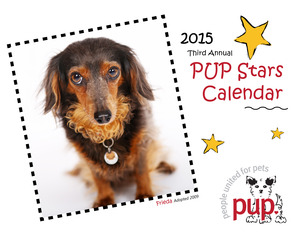 Calendars are $12.00 + $2.75 for shipping. Shipping costs are waived when purchasing three or more calendars. 
Your purchase will help support our continued dog rescue efforts (with a kitty or two thrown in here and there).
Calendars will be available in early November and can be purchased at adoption events, by mail, or via PayPal:
Events: Please see our website for locations and times.
By mail:
 Please indicate the number of calendars you want and include your mailing address. Mail check to:
PUP
P.O. Box 1691
Issaquah, WA 98027
Click the PayPal button below to order 1–2 calendars
Click the PayPal button below to order 3+ calendars
Thank you for your support of PUP, Laura