Our calendar is hot off the presses and available for you to purchase! Inside you'll find some of our Shining Stars, and thanks to our adopters, our calendar features 68 pictures along with 15 heart-warming stories.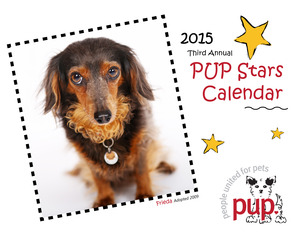 Calendars are $12.00 + $2.75 for shipping. Shipping costs are waived when purchasing three or more calendars. 
Your purchase will help support our continued dog rescue efforts (with a kitty or two thrown in here and there).
Calendars can now be purchased at adoption events, by mail, or via PayPal:
Events: Please see our website for locations and times.
By mail: Please indicate the number of calendars you want and include your mailing address. Mail check to:
PUP
P.O. Box 1691
Issaquah, WA 98027
By PayPal:
Click the PayPal button below to order 1–2 calendars
Click the PayPal button below to order 3+ calendars
Thank you for your support of PUP, Laura