We are often asked to recommend a dog trainer. I usually respond with, what kind of trainer would you like to work with? A good dog trainer will train you on how to work with your dog, whether a board-and-train situation, group situation, or individual lessons.
From our point of view, PUP needs the following in a trainer and so might you:
Quick results. The longer our foster homes are filled, the more shelter dogs die. We also don't have the money to work with a trainer that uses methods that prolong results. So timely results are important to us.
Good energy, humane methods, knowledge, and proper instruction using the right tools. Some of our dogs have been neglected or abused—a good trainer is important to us.
Able and willing to work with dogs that have aggressive tendencies. We might pull a dog that has an aggressive tendency and needs rehabilitation before placement. Trainers we use must be effective and efficient in working with behavior modification techniques.
Observe Your Dog First:
We start by listing what we are observing with the dog and then determining if we are in need of obedience only or some behavior modification. Are we looking for obedience training such as sit, down, wait, and a formal recall? Or, are the needs of the dog much more intense, such as lunging at other dogs while on a walk, attacking bicycles that pass by, or snapping at people? Obedience and behavior modification are two very different training applications, although obedience can play a vital role in rehabilitation of a dog.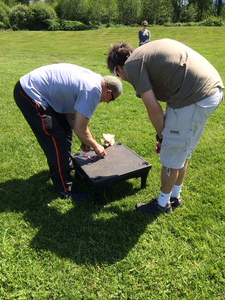 We at PUP are very blessed to have three highly skilled volunteer trainers, each very well versed in obedience, as well as rehabilitation. Michael Breton, Angie Burlingame, and Sean McDaniel have proven to be ideal trainers for PUP.
If you are looking for a well-qualified trainer to work with your dog, interview trainers just as you would interview someone taking care of your child. Watch the trainer as they work with numerous dogs. A trainer can ruin a dog and your bank account if they don't know what they are doing. Look for what we refer to as a balanced trainer.
A Balanced Trainer:
They have a calm energy with you and your dog.
They will have a solid knowledge and understanding about the tools and techniques they use.
They will correctly determine when and why your dog is stressed, anxious, and nervous, among other emotions.
They will be patient with your dog, allowing him to make the decision to do what is being asked.
They will give timely feedback to your dog such as a reward for doing something right, which could be a treat, toy, or "good boy," and a consequence for unwanted behavior that is as simple as a "no," "eh-eh," or a correction.
They will use the proper tools necessary to get positive results without doing harm.
They will be honest about what they can accomplish and cannot accomplish in a given timeframe.
For more information on PUP's trainers and their fee structure:
Michael Breton works with our Sherriff departments and in his free time works with PUP's valued volunteer foster families and our dogs. You can also find him on episodes of Saving Private K9 on the Sportsman's Channel.
Angie Burlingame owns A Dog's Life where she provides individual lessons and board-and-train. You can also find her donating her time to train PUP dogs.
Sean McDaniel owns Seattle Family Dog Training and The Dog's Way where he provides individual lessons and can be found donating his time to teaching and training PUP volunteers and dogs.
If you are looking for a dog trainer in your area: dogpro.org
Laura Tonkin
Director, PUP Dog Rescue